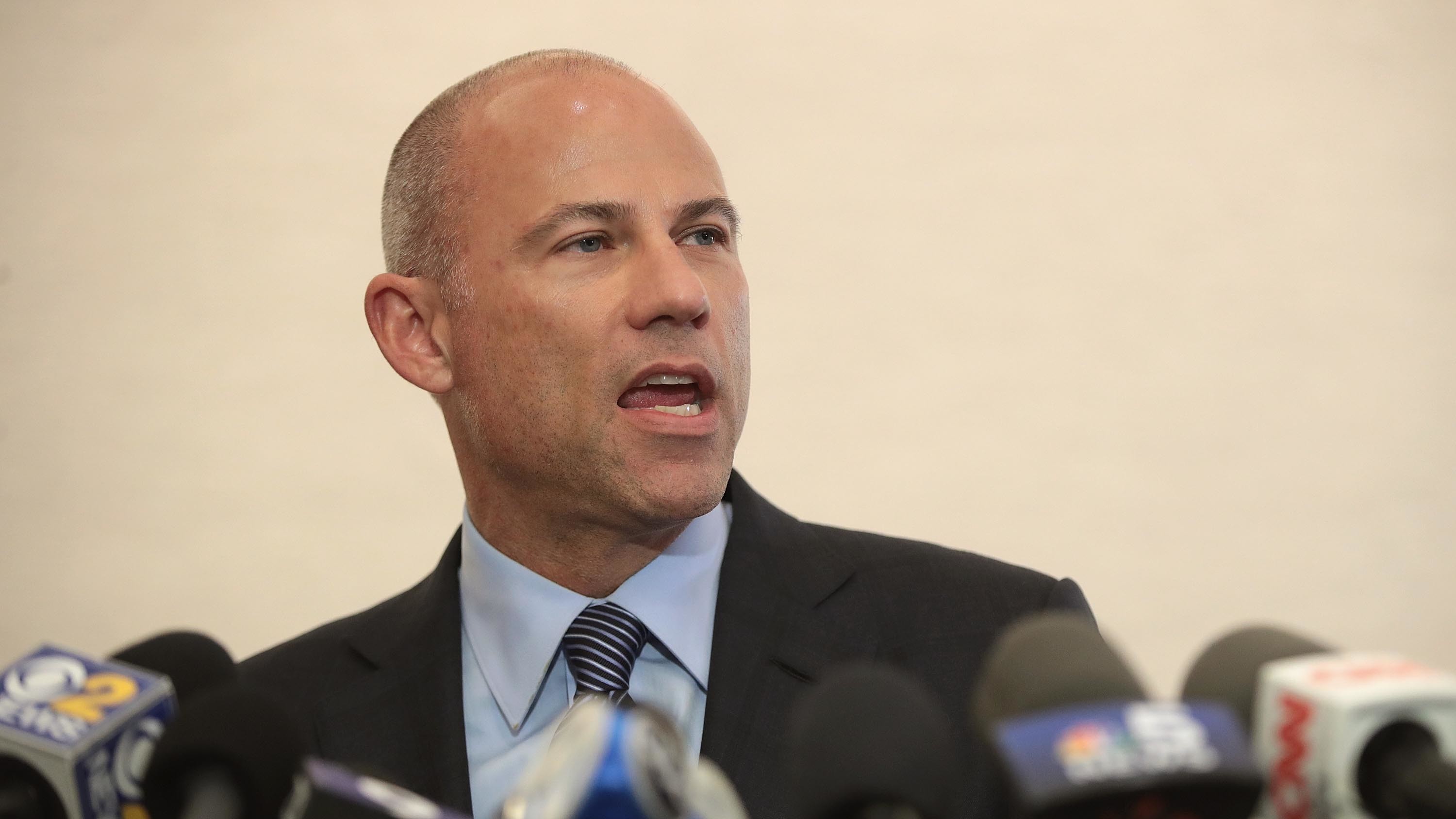 Michael Avenatti, the lawyer best known for representing adult film star Stormy Daniels in her lawsuit against President Donald Trump, has been arrested for trying to extort $20 million from Nike. 
This news comes moments after Avenatti took to Twitter to announce that he would be holding a press conference on March 26 to unearth details of a widespread scandal involving Nike and "some of the biggest names in college basketball."
According to CNN reporter Erica Orden, the United States District Court for the Southern District of New York has charged the lawyer for "attempting to extract more than $20M in payments from a publicly traded company by threatening to use his ability to garner publicity to inflict substantial financial & reputational harm on the company if his demands were not met."
"I'll take $10 billion of your client's market cap … I'm not f–king around." Avenatti allegedly told a Nike attorney, according to a recently filed complaint.
The Wall Street Journal has since reported that the attorney's co-conspirator in his extortion scheme against Nike was Mark Geragos who notably represented Nike endorser Colin Kaepernick in his recent collusion case against the NFL.
Daniels, the woman largely responsible for Avenatti's rise to fame, has since commented on the arrest of her former attorney. "I am saddened but not shocked by news reports that he has been criminally charged today. I made the decision more than a month ago to terminate Michel's services after discovering he had dealt with me extremely dishonestly and there will be more announcements to come."
Nike has provided an official statement regarding Avenatti's alleged extortion scheme to sports business reporter Darren Rovell. "Nike will not be extorted or hide information that is relevant to a government investigation," the statement partially reads. "Nike firmly believes in ethical and fair play, both in business and sports, and will continue to assist the prosecutors."
Adding another layer to the developing legal drama is the reported connection between Avenatti and co-conspirator Mark Geragos, the same attorney who represented Colin Kaepernick against the NFL. Further details on this relationship are not currently available, but stay tuned for ongoing updates.
UPDATE (03/26): Lawyer Michael Avenatti has been released from custody following an arrest on March 25 for allegedly attempting to extort $20 million from Nike. Avenatti took to Twitter this morning to unearth a piece of his "major high school/college basketball scandal." The lawyer accused the mother of Phoenix Suns center DAndre Ayton of accepting cash payments from the sportswear company before he committed to play college ball at the University of Arizona. 
Avenatti has also accused Nike of lying about cooperating with the government's investigation of NCAA basketball for the past year. He says the company is "trying to divert attention from their own crimes."
Along with Ayton, the attorney has also gone on to accuse Oregon Ducks star Bol Bol of accepting large sums of money from Nike as well. He also accused Nike Director of Elite Youth Basketball Carlton DeBose of being involved with these various payouts. Stay tuned for ongoing updates. 
UPDATE (03/27): One day after being released from custody, Michael Avenatti sat down with CBS's Jericka Duncan to discuss his alleged extortion scheme to get more than $20 million from Nike, as well as the bank and wire fraud charges he is facing in California. If convicted of all charges, Avenatti could face up to 100 years in prison. He also doubled down on his accusations against Nike.
"The truth is, for years Nike and its executives have been funneling payments to amateur players, high school players and to their handlers and family members in an effort to get them to go to colleges that were Nike colleges and ultimately hopefully to the NBA so they can sign a shoe deal with Nike."
In relation to his potential century-long prison sentence, Avenatti said, "I am nervous. I'm concerned. I'm scared. I feel terrible for my family. I feel bad for my friends."
UPDATE (05/22): Michael Avenatti has been indicted by a grand jury in Manhattan on both charges involving his former client Stormy Daniels and attempting to extort more than $20 million from sportswear giant Nike. 
Stay tuned for further developments as they become available. 
Article written by Mike DeStefano #SoleCollector